Read-A-Thon has begun!
March is Reading Month Calendar
We have decided to raise money by focusing on reading for the next few weeks. This is such a great opportunity for us to keep our focus on education and still raise the money we need. Best of all it only takes a few minutes to activate your account and we really need everyone to participate. Simply follow the steps below.
Step 1: Click Link Below!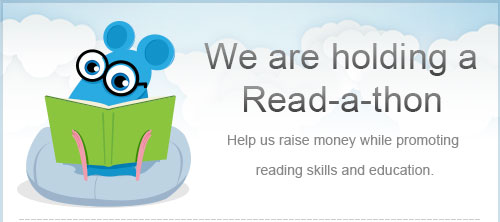 We will be starting on:


2019-03-01
Step 2: Create your profile
You will be guided through a few simple steps to activate your Read-a-thon account like adding a photo and sharing the Read-a-thon through social media and email. Just for creating your profile you will receive a certificate for Ice Cream Party.
Step 3: Track Your Reading Online!
Reading sessions are tracked online in your Read-a-thon account. You can use the fun reading session timer or log a reading session after you have already completed your reading time. Your participation not only helps us reach our goal but promotes reading skills at the same time.